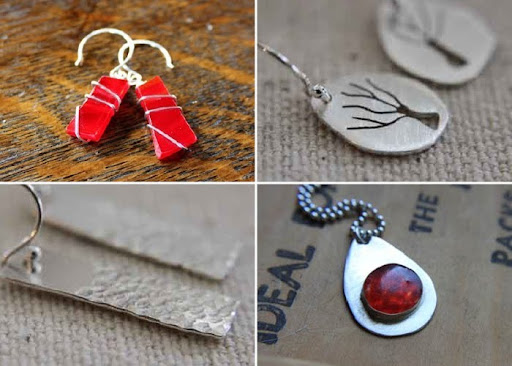 Every Tuesday, I will feature a Louisville artist whose work I admire.
Kristen Reinhart Davis - Kalla Studios - Silversmith and Jewelry Maker
This week, I have the pleasure of introducing you to another talented craftswoman I met at the Buy Local First Fair a few weekends ago. I was attracted to the beauty and craft of her pieces, particularly the skill involved in her tree pieces. Having been a silversmith and silver instructor back in the day, I fully appreciated the skill and patience one needs with a jeweler's saw.
Upon visiting her Kalla Studios Etsy Shop, I learned that she only uses silver that is recycled or was mined ethically. She also uses a lot of recycled material in her work like the recycled glass in her Drop Pendant necklace (bottom, right).
Learn more about Kristen and her traditional artisan techniques over at her website, www.KallaStudios.com.